Hawaiian Tropic
Tanning oil is an essential ingredient for the perfect sun-kissed look, and Hawaiian Tropic oil has been the go-to trusted brand of tanning enthusiasts for years. Hawaiian Tropic oil is made from ingredients of the finest quality. From SPF 0 to 70, you can find the perfect type of tanning oil for your natural skin tone and desired look. Slather it on before you go lay in the sun to maximize your results and enjoy an even tan. If you want to bronze your skin slightly or make it drastically darker, Hawaiian Tropic can take you there. Stock up on your favorite tanning oil to avoid running out.
200 ml / 6.75 fl. oz.

180 ml / 6 fl. oz.
Founded in 1969, Hawaiian Tropic is one of the top selling sunscreen brands in the world. With a range of products and SPFs up to 70, Hawaiian Tropic sunscreens provide broad-spectrum UVA & UVB protection. Hawaiian Tropic has been protecting delicate skin against the excesses of the sun since 1969. Its quality and reputation have made it one of the best-selling sunscreen product ranges, and it's relied on by people all over the world to safeguard their bodies while they enjoy a well-deserved break in the sun. The sun protection products come in four different categories. As well as lotions for general protection, there are lotions for sensitive skin, a lotion for those who indulge in sport, and a choice of lip balms. All the products are intended to give your skin optimal coverage and defence on the sunniest of days, with each one using a luxury formula containing antioxidants, an infusion of exotic fruit and flora, and a broad range of UVA and UVB protection. The skin-sensitive lotions are free of any fragrance, oil or dye and, like the sport lotion, are water-resistant for up to eighty minutes. The lip balms not only protect the lips, but pamper them with aloe vera, cocoa butter and vitamin-enriched formulas. Each one also contains a delicious flavour to suit the mood of the moment. Sun worshippers who want to achieve their optimal skin colour should indulge themselves in Hawaiian Tropic's tanning line. Available as either an oil or a lotion, the formulas have been carefully blended to ensure your skin remains soft, healthy and moisturised, using a special mix of antioxidant vitamins and a range of SPF levels. And they all come with a beautiful coconut fragrance. For those who want to get tanned indoors, or on a day where there is no sun, Hawaiian Tropic provides a choice of no less than three different lotions designed to tan and moisturise, giving you the healthy look you desire. And should you overdo it, reach for the after sun lotions or burn relief gel, all created to moisturise and soothe.
Sort by
New in
Price Low to High
Price High to Low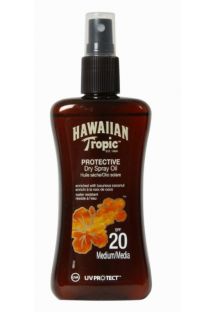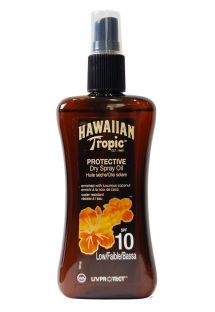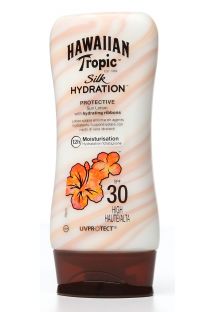 Hawaiian Tropic has been the top brand of sunscreen since 1969. Hawaiian Tropic offers a wide variety of products with SPFs up to 70 to give you maximum protection from UVA and UVB.